Following on from the Gallery and Blog install tutorials, I thought it would be good to IDM (Invision Download Manager) as well. This is also quite easy to do
1. First step as always, before doing anything, take a backup of both your database and filesystem. Then turn your board offline.
2. Having downloaded the IDM zip file, extract it to a folder on your desktop.
3. Looking inside the newly extracted folder and browse to the "upload" folder.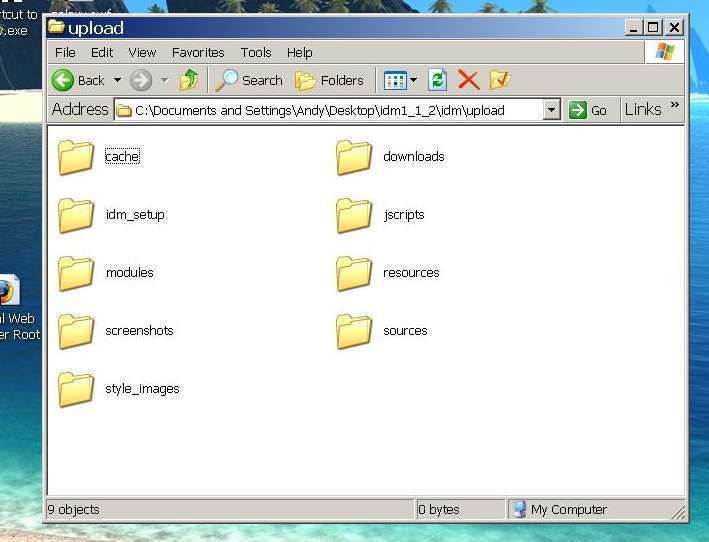 4. Start your FTP program and browse to the folder where your IPB is installed. You should see a screenshot similar to mine (note i have the IDM window open too), when you have this, select all the folders in the IDM upload folder and drag them to your forum folder to copy them there.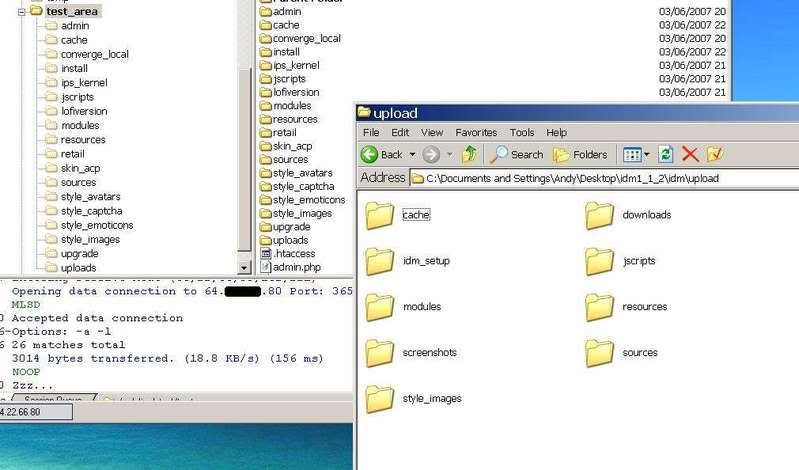 5. It can take a while to upload depending on your connection speed so please be patient. You may get a request to over-write an existing file or two, choose yes if this is the case. When done, you should have your ftp window open and see something like this (note the
idm_setup
folder)
6. Before running the install, we need to CHMOD a few folders temporarily to 777 to allow the IDM installer to run. You can do this from your FTP program. Make a note of their existing number (probably 755)
7. The folders that need will changing to 777 are ...
cache
cache/lang_cache (and any subfolders) example: "en"
cache/skin_cache
style_images (and any subfolders) example: "1"
6. Visit your forum url and add
idm_setup
to the end of the url. Example :
www.example.com/forum/idm_setup
7. If you have forgotten to CHMOD any folders, you will be reminded now. Assuming all is well, enter your admin username and password when prompted to by the installer.
8. Follow through the installer, its all automatic and straightforward.
9. Using FTP, set the folders (above) back to what they were before (typically 755) and delete the
idm_setup
folder.
10. You will need to CHMOD the
downloads
and
screenshots
folders to 777 if you have not done this already.
11. You are done
... You can access the IDM settings from your
Components
tab in the ACP. Note you need to create an initial category before the system is usable. Turn your board back online.
EDIT...
Fixed broken screenshot links